The Analysts
Autolytix Data Science (ADS) is an independent, premier Data Science company in the Automotive, Transport and Fleet Management industries in South Africa with analytics driven solutions that have created millions in revenue and cost saving opportunities and initiatives for clients. ADS leverages its scientific expertise and powerful data analytics to deliver actionable management insights.
The Objective
ADS performed an independent fuel consumption analysis on the South African Government's fleet. The purpose of the analysis was to examine the impact of eFuel technology on fuel consumption of the government's fleet. The fitment of eFuel technology is not a contractual requirement for government fleet departments, with some departments across 8 Provinces opting to utilise eFuel technology as a fuel management solution since 1999.
The Opportunity
The partial fitment and utilisation of eFuel technology on some vehicles in the government fleet opened up an opportunity to compare the fuel consumption of eFuel fitted vehicles with that of non-eFuel fitted vehicles in order to determine whether meaningful differences in fuel consumption between the two groups of vehicles exist.
The Methodology
For the analysis, ADS identified 23 vehicle models comprising of 3 196 individual vehicles for comparison where samples of adequate size were found across 8 different Provinces and multiple departments within the South African Government fleet. The analysis methodology calculated the total litres of fuel consumed by each of the 3 196 vehicles identified for comparison over a two-year period from electronic fuel transactional data extracted from our fleet management system.
Deriving the total kilometres travelled per vehicle over a two-year period by subtracting the minimum and maximum odometer readings recorded from each vehicle in line with the dates of each fuel transaction, ADS calculated the average litres consumed per 100 kilometres travelled for each of the 3 196 vehicles, whilst discarding the last transaction's re-fuelling litres to avoid overstating the fuel litres consumed per 100 kilometres (L/100kms) ratio as a result.
Only like for like vehicle models within the same Province were compared to reduce the influence of application and terrain factors on vehicle fuel consumption.
The Numbers
1 800 eFuel fitted vehicles were compared to 1 369 non-eFuel fitted vehicles grouped together into 23 passenger and light commercial vehicle model categories. A total of 9.4 million litres of fuel were consumed by these 3 196 vehicles over a two-year period. The eFuel fitted vehicles consumed 5.5 million litres of fuel and the non-eFuel vehicles consumed 3.9 million litres of fuel in the analysis performed.
At an average value of ZAR 13 per litre, a total fuel value of R122 million was analysed.
The Result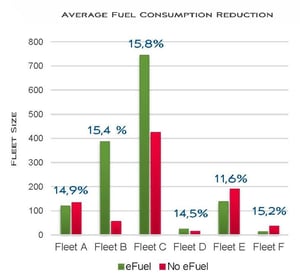 On average, fuel consumption was lower for all eFuel fitted vehicles within each of the 23 vehicle model categories compared. The weighted average of reduction in fuel litres consumed per 100 kilometres travelled for eFuel fitted vehicles was 14.88%.
Interpretations
The analysis indicated that the eFuel technology saved the South African Government 969 245 litres of fuel over a two-year period for 1 800 vehicles analysed.
This translates into a fuel cost saving of R12.6 million during the review period or R 6.3 million per annum attributable to eFuel technology.
Had the non-eFuel vehicles been fitted with eFuel technology, a further potential fuel saving of R 3.75 million per annum would have been achieved by the South African Government.
The eFuel solution for vehicles ensures that all fuel that is procured at retail forecourts is dispensed into an authorised vehicle.
Interested in eFuel for your fleet?